Full Time
Applications have closed. Website zeptosystemsltd Zepto Systems
IT Services , IT Outsourcing and offshoring solutions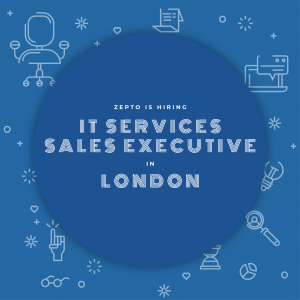 We are a UK based IT service provider leveraging outsourcing to create business value and generate cost effective solutions working in the industry since 2008.
Current Openings
Post: IT Sales Executive              Location: London, United Kingdom      Positions: 2
The jobs are available for immediate start
Job Responsibilities
As a sales executive, you would be required to fulfill following primary responsibilities:
Identifying new sales leads
Pitching services and/or products and engaging prospects in conversation
Identifying new sales opportunities and channels
Converting leads and opportunities to sales
Maintaining fruitful relationships with existing customers
We have an established leads generation team already working to identify new sales opportunities for sales personnel.  You would be required to work closely with them to pick any lead or opportunity of your interest or research your own organizations and individuals online (especially on social media) to identify new leads and potential new markets.
What to expect on a day-to-day basis?
Opening conversations and links with new SME businesses explaining the benefits of using the research and expertise that the IT Services and solutions on offer can do for their business
Identifying where there are gaps in the market and mapping out who are the best companies to target
Completing the whole sales cycle, from prospecting potential new clients to finally closing new business
Continually exceeding sales targets set by your Manager
Working as part of a wider Business Development team and helping to contribute towards team targets
Negotiating and renegotiating by phone, email, and in person
Preparing and tailoring sales pitches and sales materials including preparing and conducting presentations
What we are looking for?
An ideal applicant must be/possess:
Pro-active, self-motivated, and results-oriented
Bring energy and enthusiasm to the role
Excellent interpersonal, verbal and written communication skills
Ability to develop effective working relationships
Coachable and willing to learn
Dedicated and resilient
Inquisitive and able to offer opinions
Able to build successful relationships with clients at senior management levels
Not afraid of doing things differently and try new ways
Similar job Business Development Executive
Apply with our Job Application Form