Hire offshore Python programmers Today
Are you looking for expert Python Developers for your next dream project? Well, look no further than Zepto Systems. With an experience of over 10 years in the outsourcing industry, we have a success rate of 98%. Our offshore Python development teams comprise of some of the best brains you can find in Python.
Experienced Remote Python Developers
Python has gained quite a momentum in the last couple of years, the reason being its ease of use, script and develop. Naturally, several business have shifted to Python globally and more tend to follow thier footsteps with every passing day. In a nutshell, Python helps in gaining maximum productivity, saving time and creating user-friendly solutions for the consumers.
With fewer codes, high reliability and support for multiple programming structures, Python can be your best development choice. Zepto Systems has a well-vetted team of offshore Python programmers delivering industry's best web and mobile Python programming solutions.
Python Development Services
Zepto Systems offers advanced Python programming services to cater your company's unique business needs. We deal in a vast range of python development services, from development to implementation.
Along with this, we take pride in the fact that our offshore Python developers have helped our clients in making thier visions into reality. With an out-of-the-box approach towards problems, our experienced teams tackle the issues and provide efficient solutions to the client. Our Python services we provide include:
Python Programming
Python Software & Application development
Python Dynamic website development
Python Migrations from Legacy System
Integrating Python to the existing apps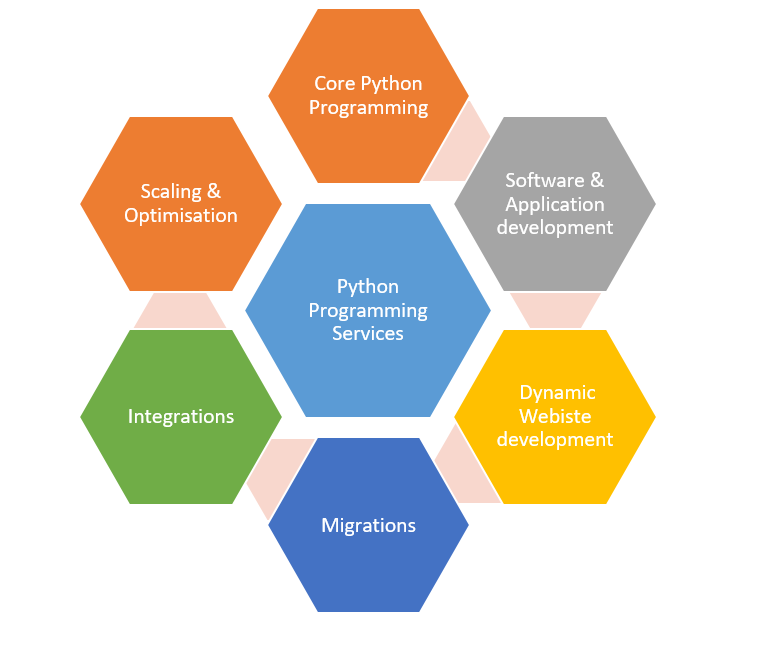 We provide solutions that drive growth. Over a decade of serving a diverse group of clients from tech startups to multi-national enterprises, we have prepared a proven success mechanism ready to be tailored for you. We have optimized our growth not by following the steps of top IT consulting firms, but creative innovative solutions. Serving our clients' best interests, we provide flexible and standard services categorized in three delivery models that we can tailor around your needs targeting your organizational requirements, goals and needs. Fast growth usually bundled with up to 60% of cost savings
YOUR VISION - OUR STRATEGY, OUR DELIVERY
A holistic approach to your technology development with a fully managed solution where we are your complete IT team. Our dedicated experts manage your project, and full ownership of the development and technological operations to provide you with the best results.
fix cost project delivery
YOUR VISION, YOUR STRATEGY - OUR DELIVERY.
A strategic approach to your project delivery where we take requirements from you and deliver a complete working solution with full ownership of project delivery. While the project has your vision and strategy, our team works to deliver your dream project.
SELF MANAGED - UPTO 60% COSTS SAVINGS
A cloud service providing you direct access to the top IT experts in the world, either working from our offices or stationed on-site according to your requirements. We can deploy experts from our existing pool or hire on-demand.
WHY HIRE python DEVELOPERS FROM ZEPTO SYSTEMS
Cut down Costs: Hire two senior level resources in the budget of one fresh in-house Java developer.
Save time: Build your own team from scratch by interviewing our pre-scanned profiles.
No hidden costs: We don't have any hidden charges that might come up later.
Bullet-proof security: Your data is protected with us via a non-disclosure agreement.
Flexibility: Our clients are free to scale their teams whenever they wish according to the project requirements.
Great inter-personal skills: All of our resources have excellent English speaking and interpersonal communication skills which eliminates any barriers which are a common problem in out-sourcing.
Dedicated resources: Dedicated Python developers for your project ensure timely delivery of the project and highest quality.
Work on your terms: We believe that every client has the right to outsource experienced teams at cost-effective rates and this is why we provide the most budget-friendly right sourcing packages.
We are here to help! Hire a single python programmer or get a python programming services from Zepto Systems. Get the services you deserve by consulting for free today. What's more? We offer a one-month free trial!