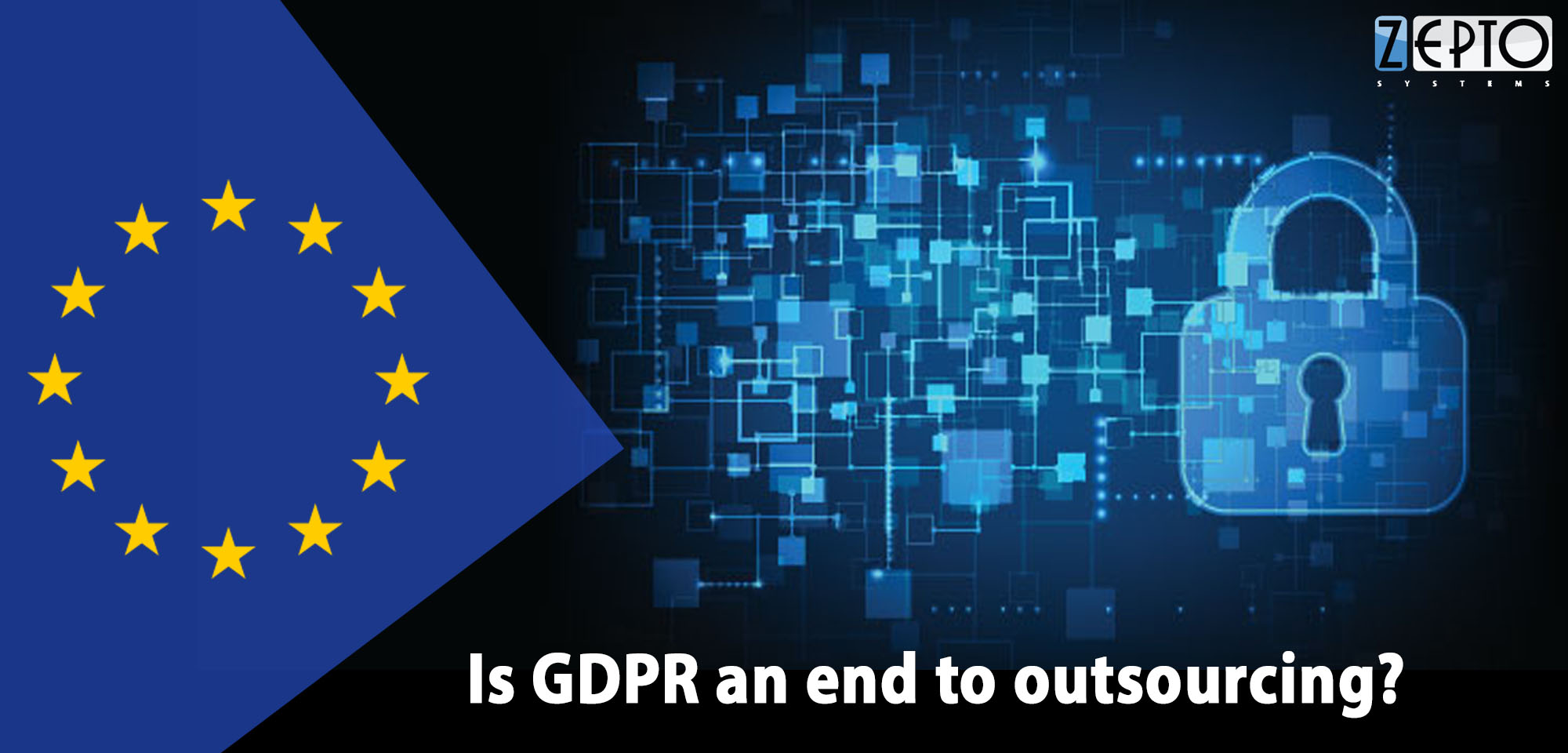 The world has never been more connected than today. News spreads in seconds, files are transferred and downloaded in milliseconds and loading speeds work like lightning. Amidst this information urgency, the competitive struggles for businesses are more than ever. IT outsourcing has been trending as a smart solution to save time and budget for large-scale and long-term IT projects. However, the rapid speed of information and data transfer the has also become a threat making companies concerned about privacy. Being vulnerable to data intrusions and hacks is a serious issue faced by enterprises globally and has always been on the table in terms of law making.
What is GDPR?
The year 2018 has been a landmark in terms of client information and data storage. Growing privacy issues were addressed in a legal framework by the EU called the General Data Protection Regulation (GDPR) which laid guidelines for the collection and processing of personal information of individuals within the EU region. The GDPR was launched on May 25, 2018 and will be something talked about for years to come. Previous measures like cookie browser policies etc. were an attempt to create awareness in users that their information is being stored, but now the arms of GDPR are far longer and penalties have been placed for those breaching this. This is good news for the security of data and cybersecurity in general. It has also created an awareness with consumers of their data rights.
GDPR and IT Outsourcing
Though the GDPR came as a way to protect data and enable users to be in control of their information, it also raised suspicions about outsourcing IT processes. As almost 80% of the large-scale companies save millions by outsourcing, the GDPR is seen as a hurdle, but guess what? It's not.
Complying with GDPR doesn't in any way restrict the outsourcing processes as the application development isn't necessarily linked to data storage or direct access. To put it simply, GDPR law demands the parties to seek permission before allowing data outside EU and all parties involved in development comply by the law. The codes can, however, be written anywhere in the world with the data management is controlled by the companies in EU premises. Below are a few points that perhaps can give you peace of mind midst the mistrust while going the outsourcing route:
You control your data
When you hire an IT outsourcing company, they can't access anything you don't allow. Any data protection you require can be declared on contracts to avoid unforeseen circumstances. Furthermore, none of the work assigned is ever stored on the outsourcing partner's end, its stored with the client company which puts you in control.
GDPR doesn't hinder IT outsourcing
During execution for IT solutions, there are usually two ends where work is being done; coding and data management. To remain GDPR compliant companies are asked to retain the data management in-house while they can easily outsource software development.
Breaches don't go unnoticed
As far as data intrusions are concerned, tools can be deployed to scan code to pick up any violations of GDPR or security risks. Companies must select reputable outsourcing partners which fully comply with the GDPR laws and add warranties to the contract prior to closing deals. Moreover, as the GDPR hype broke out many outsourcing companies created legal frameworks in compliance with the law to avoid loss of business. This means your IT outsourcing partners can actually guide you on how to achieve compliance.
No additional measures
Whilst this sounds much of a hassle, every EU company has the responsibility of achieving GDPR regardless; which means the groundwork must be done anyway, either on the ground or with an outsourcing partner. To sum up, there are no additional measures to be taken specifically to outsourcing other than what is required within the company already.
Having discussed all the complications that may arise when opting for IT outsourcing there is still the need to choose your offshore partner wisely. While taking IT outsourcing services make sure the other party is fully compliant with the GDPR laws and agrees to sign strict data breach contracts. Headquartered in the UK, Zepto Systems fully understands the implications of the GDPR and fully adheres to its clauses. With the legal help and expert consultation, we are devoted to providing unhindered IT outsourcing services to clients globally whilst fully complying with GDPR.
Zepto Systems IT outsourcing services are fully GDPR compliant
We are providing the GDPR compliant IT outsourcing services and we can help understand your specific needs and tailor solutions to meet your specific needs. We are working in few sensitive industry sectors and have ensured that we comply and our customers outsourcing to us are able to comply with different certifications and third-party audit requirements. We specialize in not only helping with the practical security measures that needs to be taken to protect personal data for GDPR and regional data-protection regulations and established data security principals.
How do we help with applied data security?
We help our customer in their applications development cycle assisting them in making their application features compliant with their data protection regulations. Our data experts let companies define and implement the security process that the applications demands in order to be safe from cybersecurity threats posed by the data intruders. Moreover, we lay down the groundwork for organizations Their servers and software installed are hardened and their operating systems and software are fully patched and updated.
To sum up, Zepto Systems in compliance to the GDPR makes sure that its clients globally execute procedures and practices that ensure that their server infrastructures and their data handling policies are protected to a satisfactory level.