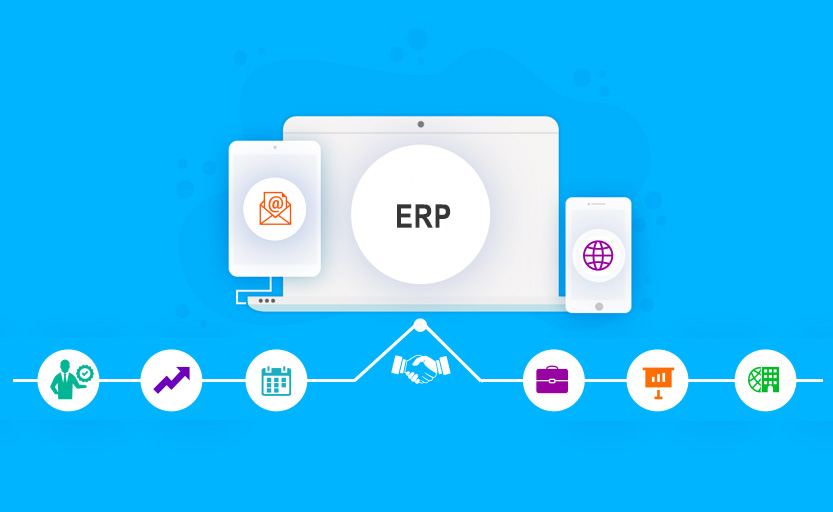 To analyse the best ERP system for your businesses, we have to first understand what is ERP and its implications for different types of businesses. ERP software or Enterprise Resource Planning Software are powerful business tools that help companies manage daily business operations such as inventory and order management, HR, accounting, customer relationship management (CRM), and many others smoothly under one complete system. Any ERP software thus has a shared database and various functions integrated on a single platform to streamline processes and information across enterprise. 
NetSuite ERP is a complete business management tool with multiple applications to handle CRM, Financials, E-commerce, Inventory and ERP. The highly scalable cloud ERP solution targets growing mid-sized and large-scale businesses with its excellent features and easy development.  targeted at high-growing, mid-sized businesses and large enterprises. Being an Oracle product, the ERP system is highly reliable and automates various front- and back-office processes effectively saving time and boosting productivity.
Netsuite ERP software is currently used by 40,000+ organizations and its use is extremely popular among new businesses. The system is best suited for large-scale enterprises as of its complex features to provide a customised view of major performance indicators, operations status, and reports from management level to teams members. 
Reasons to choose Netsuite ERP system
Every company has different needs for ERP systems depending on its size and particular needs. Netsuite ERP has some very excellent unique selling points making it the fastest growing ERP software:
The ERP system is an Oracle product which is the second largest software creator in the world and has been in the market for over 40 years.
With a huge database and increasing customers, NetSuite ERP has an active community with a large number of software experts always available to assist.
Users get a complete real-time view of their supply chain with multiple management apps in one whole system.
NetSuite has an advanced and accurate revenue recognition management that helps users to calculate and create accurate financial statements for both product and service sales transactions occurring either on a single point in time or across various platforms.
Overall, the system is ideal for large-scale enterprises with multiple application integration needs. 
Odoo runs on an open source ERP model which allows developers to create robust apps, expand usability and scale their business operations. The system is an all-inclusive software that brings together all business management applications under one platform and is used by companies of all sizes. Furthermore, the ERP system integrates all of your sales channels and combines them with strong inventory management functionality to boost growth.
Reasons to choose Odoo ERP
Free for small businesses
The cloud-based platform offers a free basic plan with no cost lifetime package that can run 1 application and accessed by 50 users. The idea works perfectly for startups and small businesses. Furthermore, the ERP system can be easily scaled according to the company's specific needs.
Odoo ERP is considered to be a universal ERP solution covering a wide range of business operations, from CRM, and HR to inventory control to multi-channel sales and project management. The system has proven to be the best ERP software for all company sizes so far.
Another aspect for choosing odoo open-source ERP is it's 1000+ modules which can easily to added and integrated free according to your business requirements.
The tool can easily be replaced with multiple apps and thus the overall ownership cost is drastically reduced. This also helps save a lot of time and money on administration and reporting.
The ERP system combines the industry-relevant functionalities for enterprise management and is also termed as the Operations module in Microsoft's Dynamics 365 enterprise edition. The software is proven to meet large-scale enterprise challenges as of its user-friendliness and high compatibility with other apps and create profitable opportunities for businesses. Furthermore, the ERP tool can be deployed both on-premise or the cloud making it easier to manage.
Reasons to choose Microsoft Dynamics AX
Reliability and proven success
The particular ERP system is a product of Microsoft that is the best software company in the world and thus brings along high reliability and proven efficiency.
The system is filled with unparalleled ERP and inventory management functionality, making it possible for companies to completely manage enterprise-level operations with ease.
The ERP software provides enterprises with the much need digital intelligence to make them highly scalable and growth-oriented. With the Microsoft Dynamics AX, you get greater visibility across sales, distribution, and marketing systems etc. The ERP tool is excellent for your financial data and takes great care of retail points including social media and e-stores.
Compatibility with Legacy systems
The best things about the Microsoft Dynamics AX is that it integrates with all renowned legacy systems and can be really cost-effective for your company.
ERPNext is an open source ERP tool with Omnichannel integrations.  The software has a wide range of modules including CRM, sales and asset management and manufacturing solutions. The ERP system can be deployed both on the cloud or on-premise, where the cloud version is paid depending on the number of users. Furthermore, the tool supports both Linux and Web browser operating systems.
Reasons to choose ERPNext?
ERPnext is a user-friendly platform with extensive features combined to form an extensive solution. The ERP software completely throws away the need for metadata modelling and custom programming owing to its Model-View-Controller architecture tools.
The software has high compatibility with other systems with an easy to use interface that makes it an obvious choice for enterprises that require multiple integrations.
ERPNext has 4 affordable pricing plans making it an excellent choice for small and mid-sized businesses. The plan starts at $299 annually and differs according to the number of users, emails support and storage.
ERPNext has proven excellence in inventory management and manufacturing capabilities and is widely used by logistics companies as the storage inventory tasks fully automated.
Zepto Systems for ERP development
Zepto Systems is a UK based IT outsourcing and web development company with proven success in ERP development. Having a wide range of ERP development services, our experts can guide you what suits your business needs the best and provide services accordingly.
Click below for a free no-obligation trial!