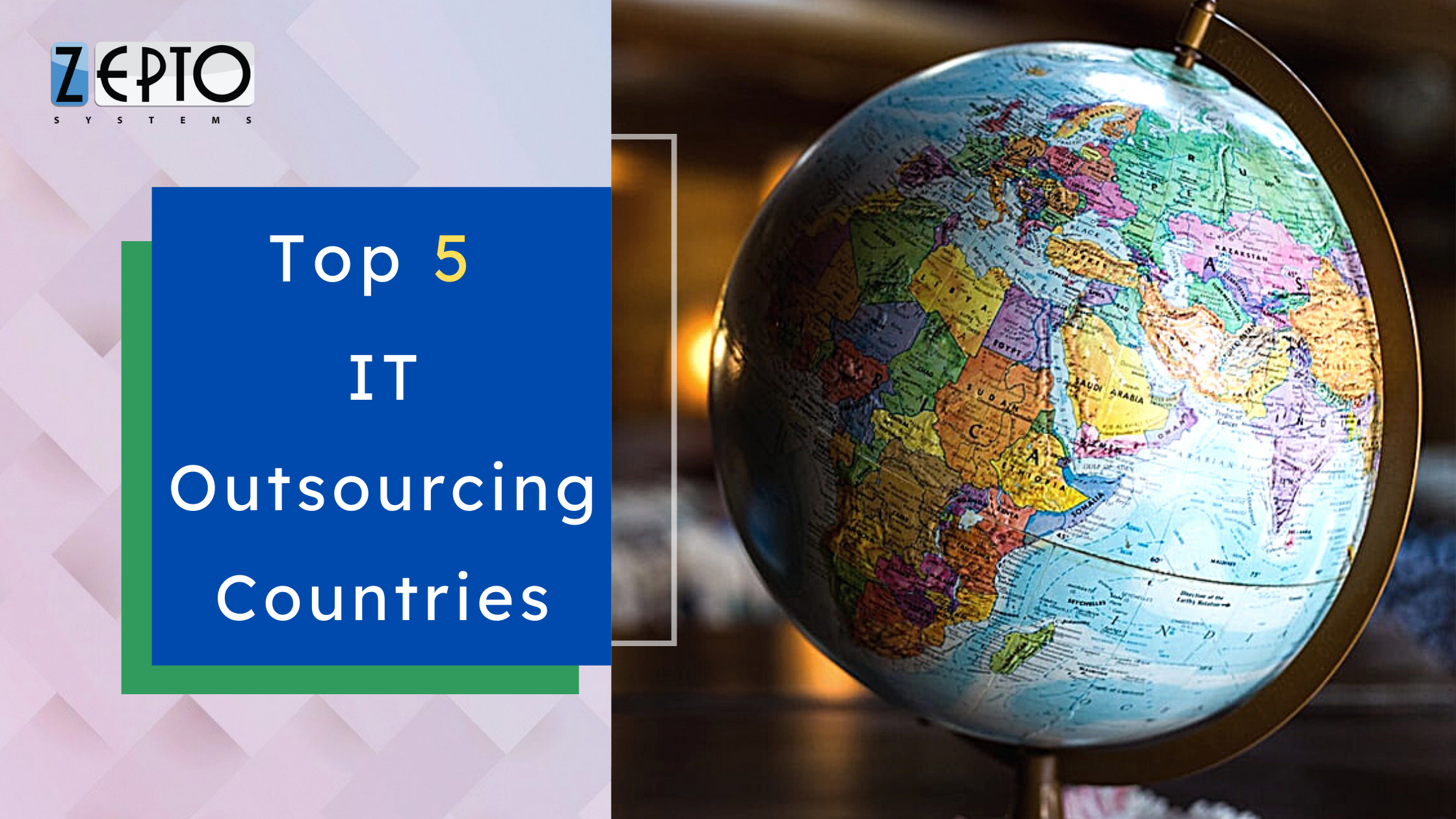 The business world is becoming more challenging in the shadow of various variants of the covid pandemic in 2022. Embracing outsourcing has become mandatory. Augmenting Remote employees or cloud employees in the existing in-house IT team is a new normal and essential to survive in the regional and global market. According to Statista, IT outsourcing has reached from $45.6 billion to $92.5 billion and is expected to grow at a CAGR of 8.77% by 2026.
Businesses are rapidly embracing offshore tech services because they want to stay on top in the market. Therefore, they want to hire a perfect an Offshore technology partner, that has solid technical skills, Cultural closeness, expert workers, and have in-depth industry experience. We have already described in a previous article about: Top 11 Benefits of an Offshore Development Partner IT outsourcing has become an internationally acknowledged best approach that enables companies to get advantages from global talent. 
Increasing IT Spending in 2022 to 2023:
Businesses are increasingly shifting towards remote work and hybrid work methodologies to compete with constantly emerging challenges in the covid pandemic. Business owners are spending more to acquire up-to-date technologies, secure online work networks for remote and onsite employees, improve customer experiences.
According to Gartner, Inc research report, global IT spending is expected to reach a total of $4.5 trillion in 2022. The research report indicates that 2022 has a 5.1% increase from the last year 2021. Gartner predicts that there will be the second-highest spending growth on IT consulting and managed services in 2022. This increased spending will reach $1.3 trillion, 7.9% more growth from 2021. In 2022, overall business and IT consulting spending is predicted 10% increase.
The world is full of IT outsourcing options in Western Europe, Eastern Europe, and South Asia. We have described in our previous article how to choose the right partner: 14 key criteria to choose an Offshore software development company.
CompanyToday in this article, we will explore five well-known offshore IT services provider countries in Eastern Europe and South Asia. In these different countries, you can outsource your software development projects securely and Cost-effectively. Ultimately you will be able to produce high-quality products, as a result revenue will increase.
When companies want to outsource their software development operations, their first choice remains to hire vendors from Eastern Europe or South Asia. Now Companies consider South Aisa as the main hub for IT outsourcing services. In South Asia, Pakistan is a fast-evolving country with a total population of 227,575,84. Pakistan is emerging world's 6th large country as a population and the 4th highly populated country in South Asia. Pakistan joined the world as an IT offshore services provider in the mid of 2000s. Pakistan got recognition as the best alternative offshoring country in 2009. Companies can get a competitive advantage by outsourcing software development processes in Pakistan in terms of quality services, highly educated IT resources, and low cost. Pakistan has 4th position in the Globally largest technological market and has over 2000 software houses in Pakistan.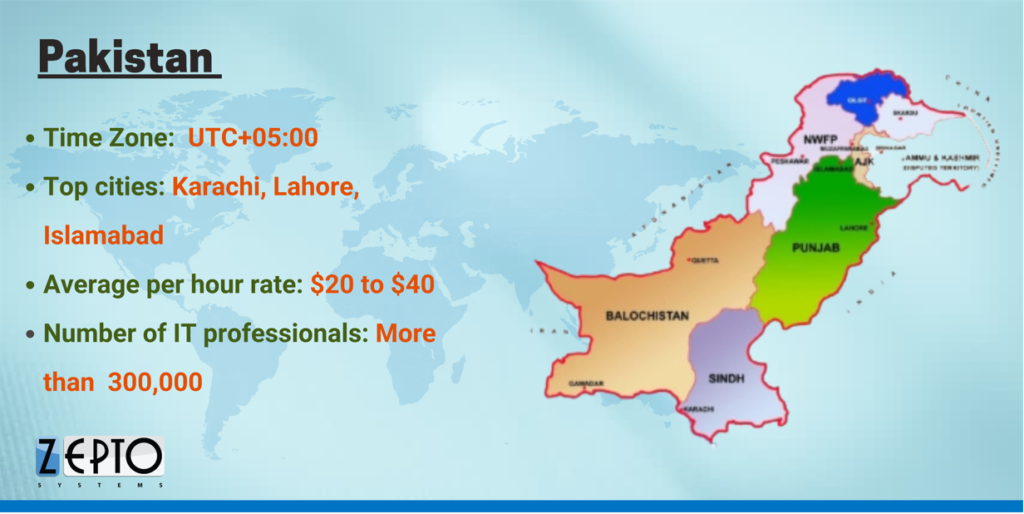 According to Kearney, Pakistan the most cost-effective country for outsourcing IT services in the world in 2017. Pakistan ranked among the best 50 countries for offshore IT services in 2009. According to the online labor index (2017) by the Oxford Internet Institute (OII), Pakistan ranked fourth as the most popular country for IT freelancing in the world. Pakistan is emerging as the future hub of offshore software development centers and numerous Pakistani tech companies link with Fortune 500 companies. Pakistan's emerging tech talent and skilled professionals make it an ideal choice for IT outsourcing. This article explains various attributes that make Pakistan the preferred choice of multinational companies for outsourcing their operations.
Pakistan is facilitating IT exporters and offering zero income Tax till June 2025. According to the latest report of Global payment platform Payoneer, "Freelancing in 2020, With 69% annual growth, Pakistan is the eighth fastest-growing freelance country.
Review Important Elements of Pakistan
• According Statista report, in Pakistan Revenue in the Segment IT Outsourcing is projected to reach US$448.8 million in 2021.
• Experienced Pakistani software developers may charge $20 to $45 per hour.
• According to HackerRank Challenges, which country has the best software developers? Pakistan scores 57.4 among 50 competitors. Another challenge by HackerRank, which country has the best software developers by specific domain? Pakistan got 3rd rank from 5 competitors in the skill of Distributed Systems.
• According to a survey of mapsofworld, Pakistan has the 3rd largest English-speaking population in the world.
• As per World Bank, ease of doing business in Pakistan got a score of 81.9. In Pakistan over 61 million internet users and increasing day by day.
• As per the report of pro-Pakistani, IT export remittances have increased by a CAGR of 18.85. Pakistan has a minimum of sixteen state-of-the-art software technology parks in different cities.
• According to the Ministry of Information Technology & Telecommunication (MOIT), Pakistan exports IT products and services to over 120 countries and more than 150 companies are ISO certified.
• High-educated software engineers are available to work at low cost, which helps businesses to get a competitive advantage in the market. Approximately 65% of the population in Pakistan is aged under 24 years.
• Pakistan is providing a business-friendly environment and offering 100% ownership equity in the IT sector. Pakistan has well-established fiber optics and the availability of 3G and 4G internet.
• Pakistan has reliable telecommunication infrastructure, transport, and a cheap cost of living.
• Pakistan is one of the largest producers of quality IT professionals in the local and global market, having more than 80,000 IT institutes. Pakistanis can communicate in English fluently with UK or US accent.
• The skilled software developer cost is low as compared to other outsourcing countries, which helps businesses save extra operational expenses. Popular tech stacks in Pakistan are Java, C++, and Python.
• Pakistan's major cities are well-known as IT hubs are Islamabad, Lahore, and Karachi. The big IT institutes and Technology parks are located in these cities.
• Pakistan has a strong policy regarding intellectual property (IP) rules. International IT companies getting offshore software development services from several well-reputed Pakistani companies like Zepto systems, Systems limited, Ovex technologies, and LMKR.
• A large number of IT professionals and IT engineers in Pakistan are foreign qualified from the US or UK's top universities. They are completely familiar with Western and European work ethics.
In the world of outsourcing destinations, China is one of the best offshore software development service providers not only in Asia but across the globe. China has a rich talent pool of highly expert developers so that's why the cost per hour of software development experts in China is a little higher than in other Asian countries.
A huge number of tech companies are setting up their business in China to take advantage of the experts in UI design, full-stack, mobile enterprise, and game development existing within the country.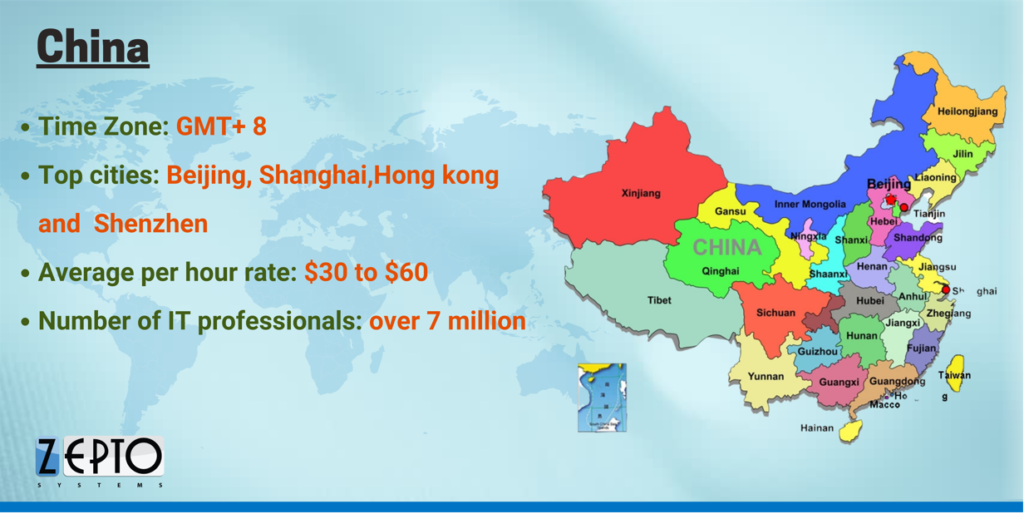 HackerRank is posting tens of thousands of new coding skills, checker challenges for software developers to enhance their coding expertise. As per HackerRank's research conclusion, the Chinese are nominated as highly talented developers. Chinese software developers got high scores as per other countries' developers in challenges of mathematics, functional programming, and data structures challenges. In the challenge of which country has the best developer, China secured the top position with a score index of 100.
Review Important Elements of China
• According to an analysis of PwC, there are top 30 IT outsourcing companies, from these top 30 companies, 13 companies are only based in China. China as a single country contains more than 40% of the total market volume.
• There are several top-class growing IT companies based in China and 4.7 million IT graduates become part of the international IT talent pool every year.
• China is a successful IT outsourcing services provider country, but facing some barriers like only 10 million people can speak English from the population of 1.3 billion.
• The most significant second barrier, China has is a loose implementation of intellectual property (IP) rules. However, companies can avoid this issue by hiring well-reputed outsourcing with documented rules and regulations.
• In China per hour cost of a professional software developer is $30 to $60.
• Chinese developers are experts in different skills like Python, Algorithm, and functional development.
• The most famous cities of China, as IT hubs are Beijing, Shanghai, and Shenzhen.
• There are 15 hours, time-zone differences between China and U.S.
Ukraine has a top rank among famous IT outsourcing countries in Eastern Europe. Ukraine offers IT services at the best rates as an expert in the offshore software development industry. Ukraine delivers high-quality development services at a very reasonable cost. In America and Europe, software developer charges are up to $100 per hour but Ukrainian software developers charge around $35 to $60 per hour.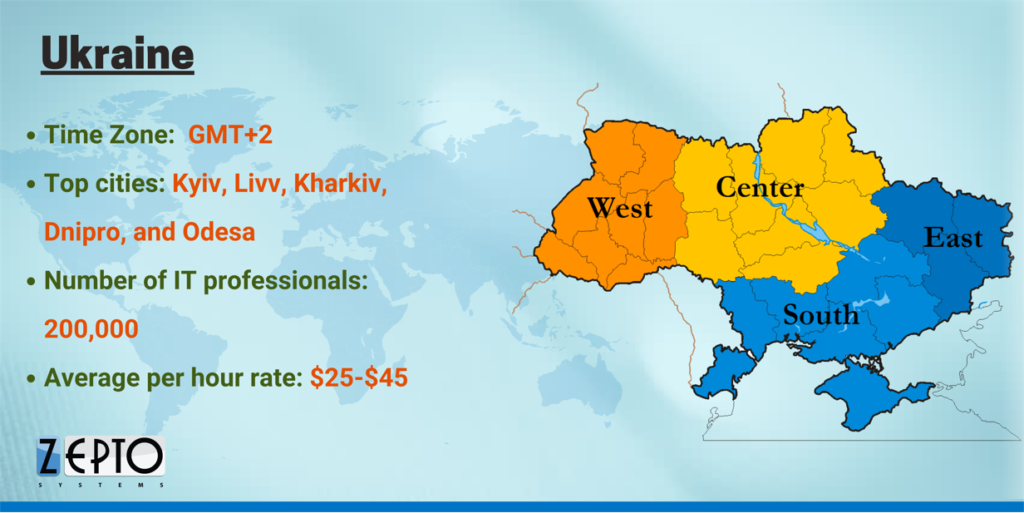 The internationally most well-known IT hubs in Ukraine are Kyiv, Odesa, Lviv, Dnipro, and Kharkiv. Ukraine has the most favorable geographical location for offshoring and nearshore outsourcing IT services. According to a survey of HackerRank, which country has the best developers, In this survey, Ukraine got 11th position from 50 competitors. The survey indicates the skill level of Ukrainian developers.
As per the outsourcing journal research, Ukraine is the most suitable country to outsource software development in the Eastern European market. As per the Global services location Index, Ukraine got 20th position.  As per HackerRank analytics and all challenges, Ukrainian developers secured scores of 88.7% on the index.
Review Important Elements of Ukraine
• Ukraine has a talent pool of over 200 thousand IT professionals, and overall industry growth increased 20% in the last year, 2021.
• As per the DOU.UA report, the most popular programming languages are Java, Python, JavaScript, C#, and PHP.
• Ukraine has 84.8% of IT experts who can speak the English language fluently.
• The average cost of high-quality outsourcing software development is around $35 to $60 per hour.
• Ukrainian Time zone difference is UTC + 2 in summer UTC +3 and most suitable for cross-cultural companies.
• Ukrainian professionals are very experts in, E-commerce, Retail, Manufacturing, High Tech, Fintech, and Healthcare.
• Ukraine has Over 90,000 IT professionals and 1000 + IT companies.
There is no doubt that Poland is the top IT outsourcing country for software development services in the world of an offshore service providers. It has a strong country economy, with an attractive geographical location for international companies.
It is an ideal outsourcing country, especially for European customers. Poland is a famous country having top-class developers in Eastern Europe. According to CEOWORLD magazine, Poland has grabbed the title of the third greatest place in the world for investment in 2020.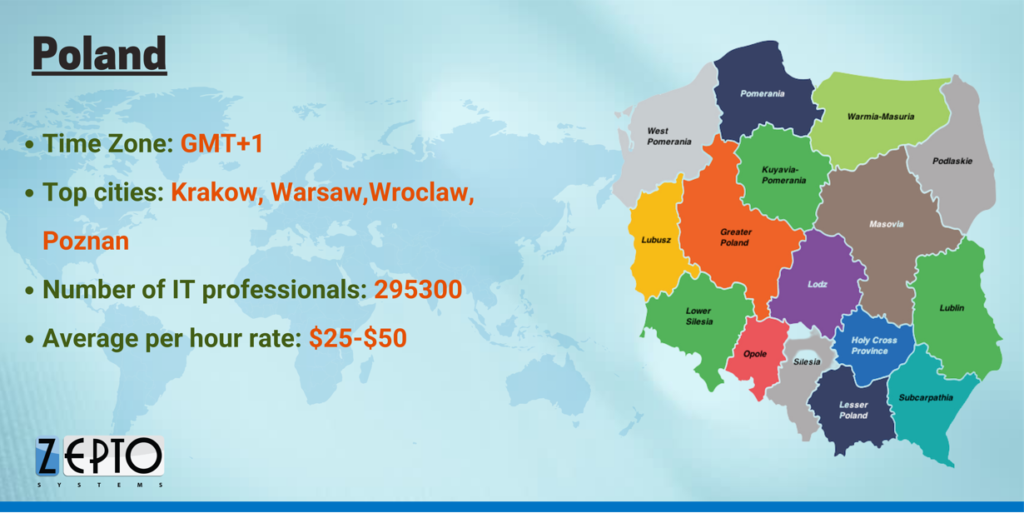 Poland is an important member of Central-Eastern European (CEE). The Central-Eastern European (CEE) region has become a great hub and a top destination for software development. Small and Midsize Businesses, large enterprises, global corporations are interested to outsource software development projects to CEE countries. Poland is also a key member country of the Central-Eastern European (CEE) region.
As per the global IT workforce, the CEE region has more than 856,500 software developers and from these developers, Poland has a large share of around 460,000 software developers.
Review Important Elements of Poland
• Kraków: Krakow has a 0.8 million population and produces 13% of total IT engineers.
• Warsaw: Warsaw has an over 1.8 million population, and it produces 24% of total software engineers.
• Wrocław: Wroclaw has an over 0.7 million population, and it produces 12% IT professionals.
• Łódź: Łódź has over 0.7 million population, and it produces 7% of total IT engineers.
• As per the performance of the past several years, in Poland IT outsourcing has increased by 22.9% from $1.09 billion in 2010 to $4.62 billion in 2019.
• According to Payscale, the hourly rate of Poland developers is $25 to $50.
• Poland has 2953 thousand skilled resources in the field of development.
• Around 30% of Poland people have excellent English communication skills. As per a research report by EF English Proficiency Index, Poland got ranked 16th internationally.
• As per the Survey report of HackerRank, which country has the best developers? Poland ranks 3rd number from 50 competitors with a score index is 98.0.
• Poland developers specialize in the various back-end, front-end, and object-oriented languages such as Java, .Net, Python, JavaScript, Objective C, C++, and Ruby.
Romania is a well-known country as an offshore software development services provider in Eastern Europe. Romania attracted considerable investments, after merging with European Union in 2007.
It has become an ideal offshore tech service provider for Eastern European companies and has an encouraging business environment for entrepreneurs. This encouraging business environment has a significant impact on the Romanian IT industry. Romanian IT sector is continuously expanding and secured 15% yearly growth in its information technology sector. Romanian IT sector generated approximately 8.2 Billion euros (9.4 Billion dollars) in 2020.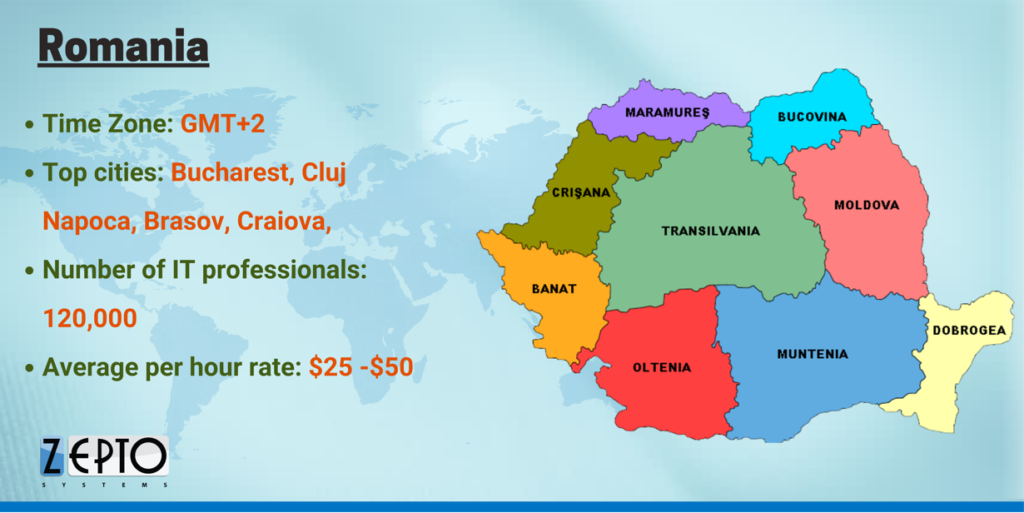 Romanian citizens can get free of cost domestic education which is an encouraging aspect for producing more IT professionals. As per HackerRank programming tests, Romanian software developers secured 20th position among 50 competitors with 81.9 score index.
Romania focused deeply on developing its IT infrastructure for the past several years. According to A.T Kearney Global services location Index, Romania secured 18th position. A.T Kearney Global services rank countries based on investor-friendly environment, different expertise, and availability.
Review Important Elements of Romania
• Romania is a member of the European Union since January 1, 2007, therefore international companies are considering secure to outsourcing software development projects to Romania.
• Romanian major IT hub is Sibiu, which has over 100-120 thousand IT professionals with yearly growth of 15% in 2021.
• Romania's 90% of Software engineers can fluently speak the English language. A good number of IT professionals are proficient in Hungarian, German, and French languages.
• Romanian culture and time zone GMT+2 perfectly match with European time zone and culture.
• Romanian software engineers charge around $25 to $50 per hour. The highly expert software developer may charge more than $50 per hour.
• Romanian's software engineer has expertise in databases, algorithms and in various programming languages like PHP, Python, JavaScript, and Java.
• Romania major IT hubs are Sibiu, Bucharest, Cluj-Napoca, Iasi.
Business leaders can understand the importance of the right IT outsourcing partner; therefore, they want to explore the best nearshore or offshore country. You can check our previous article for a better understanding.
How Offshore Software Development Remains to be a Smart Decision. 
Business owners already know exploring the best countries is quite challenging but limiting the search to the best options is a key to successful outsourcing. IT outsourcing is necessary for businesses to maintain a competitive advantage over competitors. The well-reputed companies like Amazon, Google, and WhatsApp utilize outsourcing strategies successfully.
When you choose an offshore country wisely, it brings diverse knowledge, expertise, and latest technology skills, to your organization. You can read our previous article: Top 5 IT offshoring delivery Models for the right selection.
Why choose Zepto systems as your next Outsourcing partner?
Zepto Systems is a top IT outsourcing service provider with 13 years of extensive experience in offshore software development.  Zepto Systems assists, to expand your in-house teams with its highly skilled and leading remote IT experts.
We follow this methodology for every client we work with. If you are looking to hire an offshore software development team. 
We do complete Development Planning.
We implement an agile development methodology.
We deploy the Exact Matching Tech stack.
We consider the feedback of our clients at every stage of the development cycle.
We deliver the project under the Timeline & Cost.