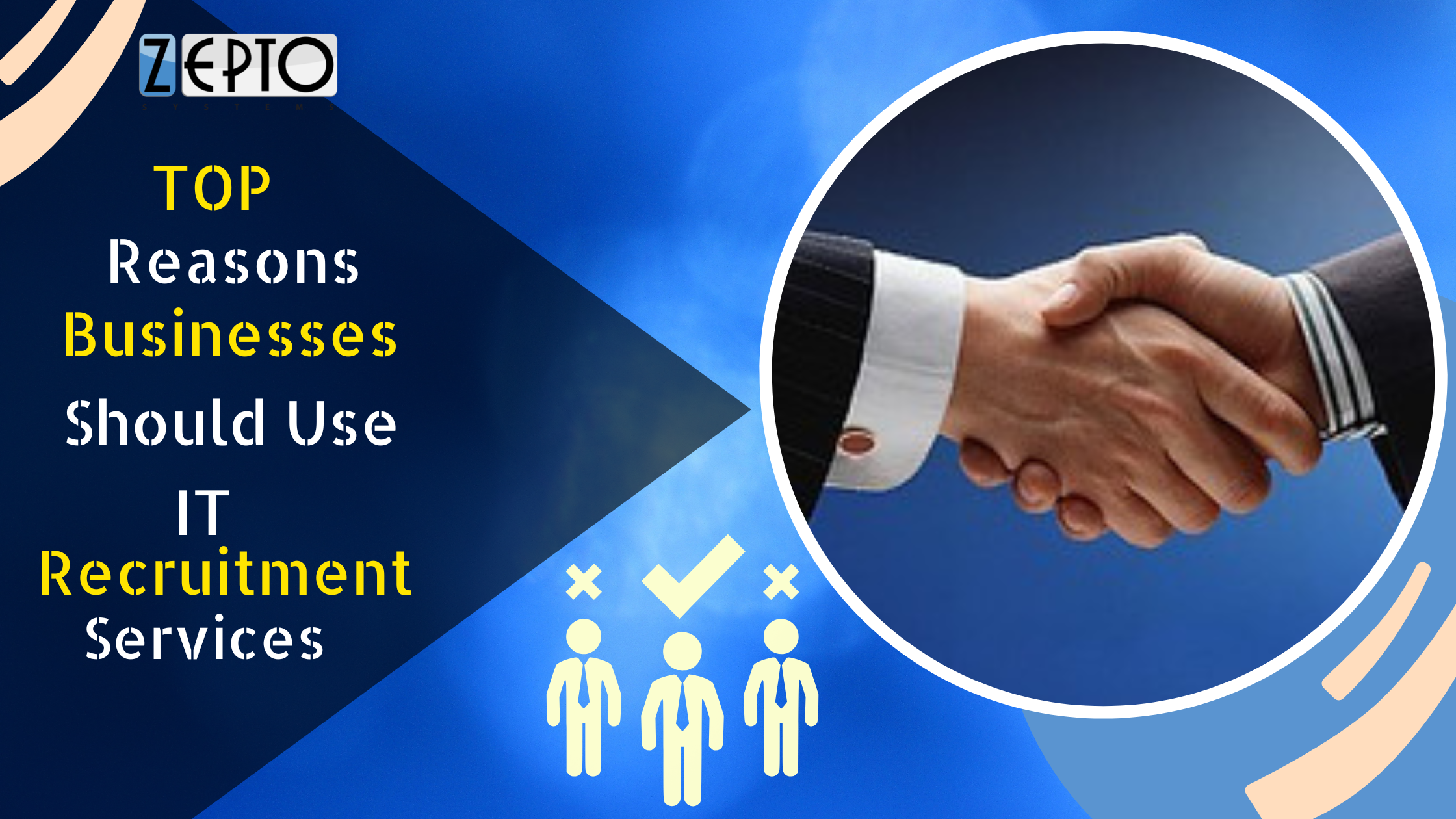 Business owners always work smartly and understand the value of time, resources, and money for their business.   Understanding the value of a recruitment agency is not rocket science that how a recruitment agency can bring value into the lengthy business staffing process.  An experienced IT recruitment company can complete the hiring process better/faster/cheaper than their in-house HR team could do it themselves. An experienced IT recruitment firm like Zepto Systems can fulfill a permanent IT job position, it can help to build a team of contract-based IT experts for specific project needs and can provide a sole contract IT expert (Software developer and engineer).

 You can bypass the in-house lengthy IT recruiting process and increase productivity in core business operations. A well-reputed IT recruitment company like Zepto systems can save your precious time because time is money. A recruitment firm can assist you in hiring the right candidate for the current job position and save your money and resources.
 Today in this article, we will discuss the history, process, references, and benefits of IT recruitment services in detail. An IT recruitment firm works as a focal person between the employers and candidates. The IT recruitment firm enables businesses to search for the right candidate because they have a vast network of qualified talent and exact matching and qualified with current job openings.

The recruitment and staffing concept came into being during World War II, because of an immediate need to fulfill empty job positions in the armed forces.  Over time, there has always been a demand to search for qualified and matching candidates for suitable job positions.
Recruitment Firms Hiring Process
The Recruitment companies follow a complete process to choose the best candidate for the position.    In the initial stage, they do Background checks & Reference checks. In the second stage, they screen the candidate resumes and shortlist the right and most suitable candidates. In the third stage, they schedule interviews and place candidates who want to work on-site in the office or remotely as per employer requirements. The candidate remains an employee of recruiting company but works under the administration of his employer.
Insights shared by Marie Bosco Burwell
Kelvin Shaw, Director Executive Search, at Keynote Search, explores the value of recruitment services for your business in an interview with Managing Director – Marie Bosco Burwell from Recruiting In Motion. Marie has 10 years of working experience as recruiting consultant.
i) What do recruiters do?
We help the clients/companies come to us with their talent acquisition needs and goal. We help them to find the right candidate to fulfill their positions. In simple words, we help them find the people for the job.
ii) How a company can benefit from a recruitment agency?
We don't take the persons and try to find a job for them. We take the job and try to find the right person for that job.  In reality, we don't take the person trying to find a job for them. We always try to find the right person for that job.
iii) Why a company should use a recruiter as a resource?
''A lot of businesses believe that recruitment services can be quite costly. I think we look at the just straight from a fee going to sometimes looks overwhelming. They don't understand about all of the hours are going to recruit:  
Headhunting,
Sourcing,
Screening,
Reference checks,
Background checks
All of that sort of stuff falls under recruitment services. 
The cost of hiring is:
Onboarding somebody,
Upfront,
Sourcing,
Posting jobs,
Interviewing,
Screening
All the time that takes to do it quite costly for any business.
She said " we actually follow the whole process for recruitment, it takes a lot of time and quite a costly process as well. We save your lot of time and money and time is money all we know that''.
iv) What is the average cost of a bad hire?
Careerbuilder did a survey recently about what is the average bad hire cost. They revealed that the Average cost of a bad hire in any business is $15,000 and, this cost continues to go up with higher salaries.
v) What value a recruiter brings to company?
There are different benefits of hiring a recruiter company and, it also depends on the type of service you engage with a recruiting company. The biggest benefit is time-saving in your hiring talent acquisition and, we will do the whole process: all upfront, all screening, interviewing, reference check, background check, interview, and including all things.
The great benefit of working with the IT recruiting company is Our job is to find for you the actual best candidate for this job, not the just best applicant. The recruiting company actually takes your all requirements burden.
 First, we understand your culture, understand your fit and go out and specifically headhunt candidates for you, they may not be active job applicants so you may never see that candidate, I think that is one of the greatest value of engaging with a recruiting company.
What are common misconceptions about recruiting agencies?
 i) High-Cost charges
The most common misconception about IT recruitment companies is that their charges are costly. Many business owners think, why pay an extra amount in recruiting fees when they can hire by a human resource manager. In their opinion, they are saving budget but using recruitment company may save their budget in the long run.
In Fact
The business owner looks only cost of the package the recruitment firm offers, unluckily they neglect the benefits of the savings like money, time, trained resources, and value they will get in the end.
ii) Temporary Employment
The most common misconception about recruitment firms is that they provide candidates only temporary bases, not permanent ones.
In Fact
Recruitment firms provide candidates according to the requirement of the employer. They hire a candidate for permanent positions and some of the candidates start job positions as contractual and later transition into a permanent position. Recruitment firms provide a direct-hiring facility to the employer to source and evaluate job candidates.
iii) Misconception about base pay and fee rates
The businesses consider only the base pay charges they are paying to employees. The big misconception is they think recruitment firm's packages are higher and making more profits.
In Fact
Recruitment firms have similar payroll taxes to pay, unemployment, and worker's compensation premiums employers have in the U.S.
iv) Only Focus on the front-end cost
Many businesses only focus on the front-end fee of an IT recruiting company. Hiring on time is the most critical factor for any business. The business owner can understand the value of the open job position in their company. Companies may face the issue of decreasing revenue due to late hiring, delays in business processes, and slow productivity.
In Fact
Hiring a well-reputed IT recruitment firm can help to hire on time without any delay, as a result, productivity will increase without any further delay in the software development process and waste of time.
v) Misconception about the experience
The other misconception about IT recruitment firms is that they deliver less qualified or inexperienced candidates because they could not get the job anywhere. 
In Fact
IT recruitment companies follow a complete hiring process to search and evaluate the right candidate because recruitment companies have a deep pool of expert candidates of all skill sets.  The recruitment firms hire an exact matching candidate according to job and employer requirements. Sometimes the perfect matching candidates for the position are overqualified.
The core purpose of an IT recruitment company is to assist an employer in hiring the most suitable skilled individual to fulfill the open job position. In other words, an IT recruitment company helps the candidate find the most attractive, well-paid job according to previous software development experience and skills.
Let's explore how mid & small size businesses can gain advantages using an IT recruitment company like Zepto Systems.
i) Qualified Technical resource
The major flaw in every HR department is that they don't have a reserve of candidates. The Human resource departments start hiring when they are in need and without any proper strategy.  
An IT recruitment company has access to a deep pool of IT experts that most organizations don't have such a deep pool of candidates. This deep pool includes active and inactive job seekers, peer referrals, job seekers outside the geographic area, and many candidates between these options.

An IT recruitment firm always pre-screens all candidates with a technical evaluation technique and analyzes the technical skills and competencies of the candidate to assist the hiring company. This facility allows all businesses to save a lot of time, budget, and internal organizational resources.
The IT recruiting firm evaluates each candidate and adds them to their talent pool. The recruitment company has access to a deep pool of industry-ready skilled, talented candidates and these candidates are ready to join on short notice. 
ii) Reduce Hiring Time frame
Any open job position is critical for any organization that can badly affect company sales revenue, productivity, and growth if not filled at the exact time. The morale of other employees may go down until a new candidate joins in, so the average time of hiring a candidate varies from industry to industry. Generally, 30 days is the limit for fulfilling any open job position. This time frame goes up to 56 days for information technology-related positions.
Acquiring services from an expert IT staffing company like Zepto systems can reduce hiring time to fill an open position. Recruitment companies keep a database of huge applicants who can immediately join the team. IT Recruitment firms work closely with the companies to understand company culture, job requirements, and available budget. IT recruitment company always place its best candidate for the opened position.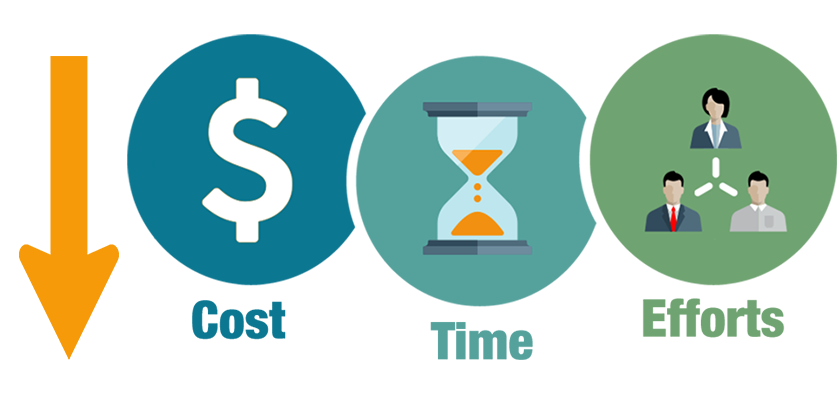 The success of the IT industry revolves around adopting the latest trends and technological advancements. Hiring software developers and engineers through an in-house team is very time-consuming. Businesses need to hire an expert hiring manager who is up to date with the latest advancement in the IT industry. 
IT recruiting company can select the right candidate on short notice. It is valuable when a company wants to start a project and needs urgent skilled candidates.
iii) Check before Permanent placement
IT recruitment companies can allow businesses to hire a candidate on a trial basis. This contract facility enables a business to hire an employee on temporary hiring that will change to permanent hiring.
The contractual facility enables businesses to place a qualified and skilled candidate for a trial duration. This contract may change into a permanent employment contract or it can extend at the end of the trial period.
This unique facility of IT recruitment companies assists businesses in hiring the right matching candidate with the required skill, experience, and attitude to succeed.
iv) Adaptability and Agility
The IT recruitment company has a deep pool of unlimited candidates having the latest technical skills and expertise. These expert candidates are also available for a freelancing or contract-based job. This deep pool of recruitment firms enables the businesses to hire an experienced candidate for a limited tenure or according to a specific project need. 
This unique feature of an IT recruiting company enables businesses to remain flexible, responding with agility to the new business challenges. They can hire new full-time resources for a specific project need without further delay or bearing fixed expenses of permanent hiring. This unique feature of a recruitment firm helps businesses reduce the burden of new projects from existing occupied employees.
v) Optimize your overall budget
Reducing hiring expenses and maximizing profit is an actual big challenge for all businesses. This target becomes easy after Partnering with an experienced IT recruitment firm like Zepto systems.

No need for an on-site HR department
Every activity related to the HR department can be performed by a recruitment company. In simple words, you can save overhead costs like salaries of the HR team, sitting space they occupy, their medical and other employment benefits, retirement plans, provident funds, etc. 
Partnering with an experienced IT recruitment company you can save a lot of hiring expenses. The IT recruitment company will perform the sourcing, posting of jobs, interviewing, screening, and selecting of the right candidate. They also handle all paperwork, employee complaints, and terminations.
No need for In-house training
The IT recruitment firms perform a comprehensive hiring process to choose the right candidate because they can understand the importance of hiring an expert software engineer. The training of experienced candidates is comparatively easy after the placement. The big IT recruiting companies provide training sessions before the candidate joins the company. This facility is cost-saving for businesses because they don't need to spend time and money on training programs. They can hand over responsibilities immediately. Business owners feel freedom because they can concentrate on core operations and productions.
If any team member does not perform well, the ultimate pressure goes on the other development team members, which can badly affect project quality and delivery time.  The other employees have to work daily in late sitting to complete the task and that late sitting produces more stress on employees.  The employees make mistakes in the critical project development process, which can badly affect employees' productivity and project quality.
An IT recruitment company selects highly expert specialist candidates according to project needs and employer requirements. The perfect hiring helps to reduce stress among employees and enhance productivity.
Easily hire as per market Trend
IT companies should have a flexible infrastructure and hiring model because a sudden demand may increase for particular skill sets or programming languages. The Search for a skilled IT expert may become challenging on the earliest basis. A sudden demand maybe decreases for specific skillsets or programming languages in the market.
An IT recruiting company can immediately increase or decrease employees according to changing market trends.
The popularity of any IT recruitment company depends on the performance of their candidates, who are working in client companies. The employees play a critical role in the success of any organization. If one IT company performs outstandingly in the market, the credit goes to the employees of the IT company, and ultimately all credit goes to the IT recruitment company.
The IT company can judge which candidate is suitable for a permanent position. The most attractive feature of hiring IT recruitment companies is that they are accountable for their all services. If any organization thinks that the IT recruitment company is not providing skilled candidates according to his requirements or commitment as they made. The companies may cancel the agreement and can hire another IT recruitment partner easily at a cheaper rate.
vii) Ability to hire on short notice
A complex Software development project may require an urgent system integration or critical updates. Your current employees may don't have such programming expertise. That is the turning point where your project may stop or delay going to the next development phase. 
Small and Mid-size businesses cannot afford to hire IT experts permanently for such limited tasks on very immediate notice. It is very challenging for business owners to move forward without getting help from an IT recruitment company because an experienced IT recruitment partner can help you find the right individual with specific skillsets for a specialized task.
IT recruitment companies have all types of skilled IT personnel in contact. Businesses may have partnerships with IT recruitment service providers to hire temporary a highly-skilled IT experts to fulfill urgent requirements. Some of the benefits for businesses are: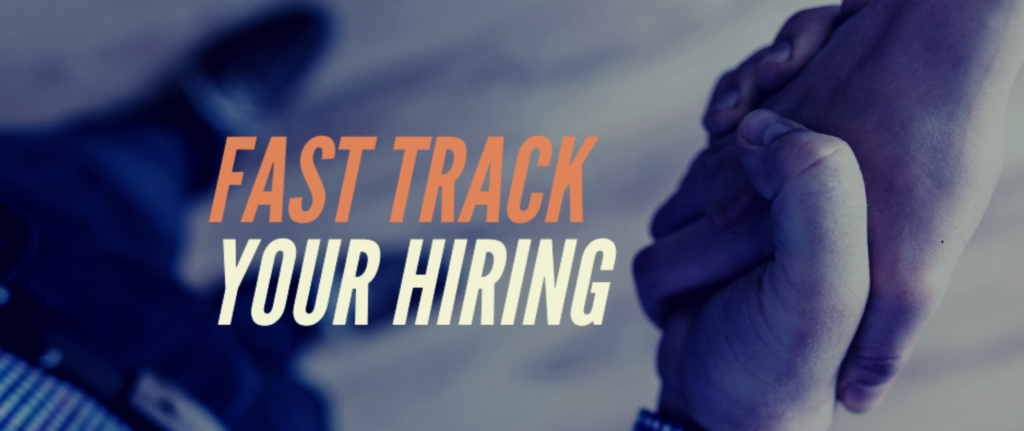 They don't need to hire every candidate permanently.
They don't need to spend extra resources on finding and hiring the right candidate.
Avoid disruption in the current work environment by injecting permanent new employees. New candidates can damage the current work environment.
viii) Avoid managerial conflict
An IT recruitment company can help you avoid conflict between the HR manager and head of the department over the selection of any candidate. These hierarchical conflicts can slow down a company's growth and damage selection criteria.  
The IT department is the backbone of any organization and its day-to-day functions. The expertise and talent of any one team member is a shared resource of other employees in an organization. Searching and hiring for a perfect matching candidate with all the required expertise are highly challenging for an HR department. An IT recruitment company can efficiently perform a complex hiring process for expert IT resources. The companies can predict and make strategies according to changing industry trends and demands for technical expertise with the help of an IT recruitment partner.
 The experienced IT recruitment partner makes a crystal clear contract with the candidate regarding the joining date, compensation packages, contract duration, and job position. This facility helps HR managers and heads of departments to avoid any possible future conflict between departments.
ix) No need for advertising expense
When a company wants to fulfill an urgent empty position, they need to advertise as soon as possible to make awareness about an open job position in their office. Businesses can use online tools, web-based job portals, and other techniques available to advertise job positions.
Advertising and marketing for an open job position is a costly and lengthy task. The head of departments and HR managers need to make a clear strategy and creative job advertisements to create awareness in the job market. There is no 100% guarantee that a clear message will deliver to the target audience after doing a lot of advertising expenses, and also no guarantee that the right candidate will apply for the open position.
How can Zepto Systems assist in your recruitment process?
Zepto Systems carefully scrutinizes candidate profiles and analyzes their key strengths and abilities through a series of checks. The candidates are tested through a series of 3 interviews comprised of 2 technical interviews with different interviewers having more than ten years of professional experience and an HR interview to evaluate the candidate's attitude, physiological position, and teamwork ability.
Zepto Systems has 13 years of experience as an ISO-certified IT recruitment service provider with over 200 in-house technology experts. Zepto has built up a formidable database of over 2 million IT profiles and deploys specialists who are dedicated to your organization as dedicated personnel. 
Initial screening,
Technical Test,
Technical Interviews,
Optional Client Interview,

Probationary evaluation
Finding the right IT resource, evaluating, and hiring technically sound candidates a perfect match with open job positions can help businesses save time, budget, and resources and achieve high-level and strategic objectives.
Finding the right IT resource, evaluating, and hiring technically sound candidates a perfect match with open job positions can help businesses save time, budget, and resources and achieve high-level and strategic objectives.
The high level of services delivered by IT recruitment companies has decreased the value and requirements of on-site HR departments.
The in-house HR manager cannot deliver high-value services, such as understanding the job requirements, required skill sets, matching applicant profiles with the job, long or short-term contracts, or permanent hiring. Hiring an experienced IT recruitment company like Zepto systems can perform all these tasks efficiently.
An IT recruitment service provider like Zepto Systems can support small & mid-size businesses by hiring pre-screened, highly qualified candidates with modern programming language.
If you are also looking to hire a technical highly skilled candidate for your upcoming project so, feel free to contact us for a free consultation with our IT recruiting experts. We can help you to attract and hire IT experts with high talent to grow your business